As a part of Record Management, you will want to merge duplicate records found in the database to bring that data together. As a part of completing a merge, it gives you as the administrator a chance to review the data and keep what is good and immediately remove incorrect information.
---
Additional Help
---
It is important to identify the record that is the duplicate one and the record that is the primary one (this is usually already linked to a family). The goal is to bring any potential new information into the primary record to update it if needed while discarding old data. This may require reaching out to the member and making sure of what should be the correct information. After this is confirmed, move forward with the merge process.
It is important to make the distinction that merging and linking family members are two very different things. Merging is the process of bringing two separate records together and is destructive in the sense of removing one record in favor of streamlined database information. Linking family members is done all through the Family tab and joins member records together to associate them for functions like Contact, Check-In, Giving, etc.
Merge Process
Find the merge tool through the left-hand navigation under Individuals → Merge Individuals.

Note the descriptive text at the top of the utility defining the process and some considerations.
Individual 1 is the member record which is the source of duplicate data (this is the record to be removed from the database when the merge is complete).
​Individual 2 is the record that will be the primary one and remain when the merge is completed.
As you are identifying records to merge, you can note their database ID number as a reference point which can be seen easily in the browser address bar.

Viewing database IDs (useful for searching like this) in many areas of the database can be enabled on a per-record basis. Navigate to the Account tab of the profile for the person needing this then enable "Display User IDs Beside Names" under the Settings part of the Account preferences.
Use the search fields for locating the member records to add the duplicate record (Individual 1) and your new primary record (Individual 2).

Select the checkboxes and radio buttons (circled selectors) to identify which data to keep. Data without a selector next to it will be removed as a part of the merge. Be sure to review each line to verify the right information is selected to hold onto. The software will start with Individual 2 being the default one to keep as the relevant information. The following 3 images show all the options available as soon as both members are selected.
| Part 1 | Part 2 |
| --- | --- |
| | |
Part 3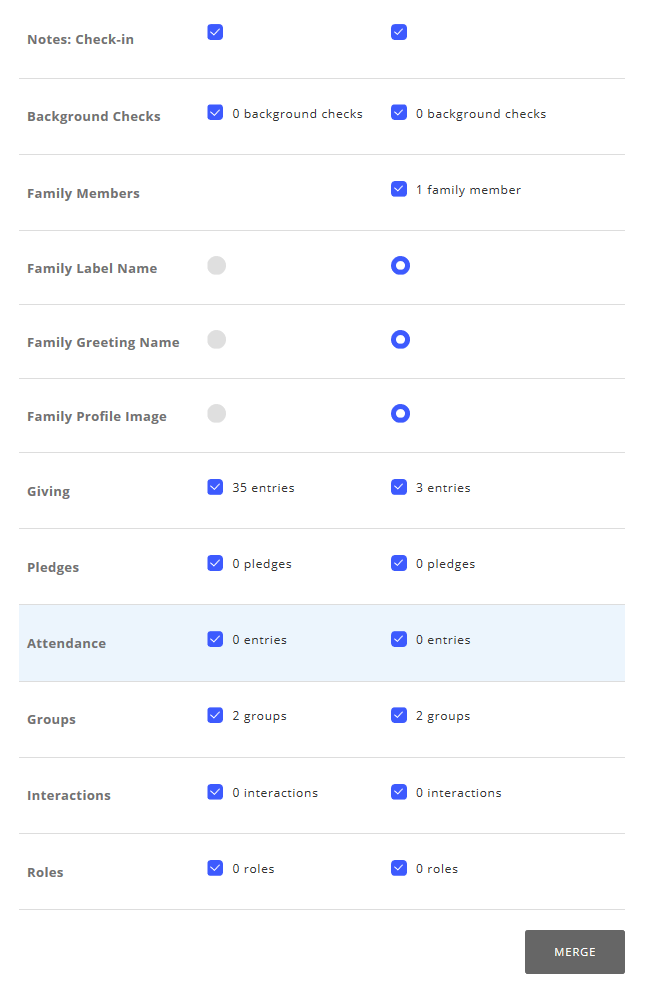 Once the data has been reviewed and is ready to be merged, click MERGE . The software will let you know the task was completed and provides a link to see the new profile.

Related Topics: